As communicated prior, all Salm Partners are eligible for vaccination. Vaccination appointments can now be made at:

The vaccine is free to everyone, but we know that it still takes time. To reimburse partners for this time, Salm Partners is going to provide $80 (an estimation of time spent) to all hourly partners who get fully vaccinated. Fully vaccinated means either:
2 shots of the Moderna or Pfizer vaccine
1 shot of the Johnson & Johnson vaccine
Once you have completed your vaccination, you can submit for your $80 reimbursement by filling out the form at https://tinyurl.com/covidvax2021 . This can be done on a computer or mobile phone. Hourly partners who have been previously vaccinated can be reimbursed as well. You will need to enter your name, phone number, and upload a picture of your Vaccination Record Card (see picture below). Please upload only your Vaccine Record Card and no other medical or genetic information when submitting your proof. If you are filling this out on a mobile phone, you can click on Browse Files and take a photo of the card (or select the photo if you took a picture previously). If you have any questions, please reach out to your manager or speak with or email HR (AskHR@salmpartners.com).
Example Vaccination Card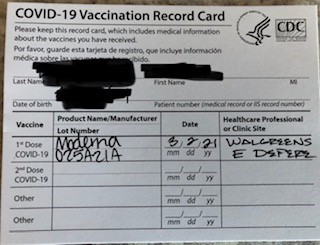 Taking a photo of your card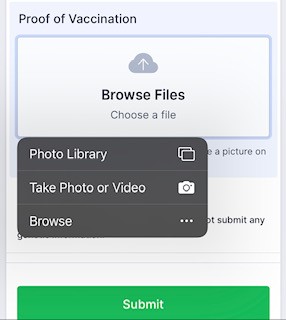 Vaccination Progress

Vaccinations continue to make great progress in the state and nation. 1 in 5 Americans has received at least one vaccine dose (72 million people). The growing number of vaccinated people continues to show that the vaccines are safe, effective, and our best defense against COVID-19. Support for the vaccine is near universal across the country's leadership. Below is a small sample of people who are supporting the COVID-19 vaccine as safe and effective:
A list of celebrities who have been vaccinated (Dalai Lama, all 9 Supreme Court justices, Kareen Abdul-Jabbar, Hank Aaron, Mitch McConnell, Alexandria Ocasio-Cortez, Buzz Aldrin, Tyler Perry, Dan Rather, Sam Jackson, Tony Bennett, just to name a few . . .)
Trump urges all Americans to get COVID vaccine: 'It's a safe vaccine' and it 'works' (Fox News)
Former U.S. presidents Obama, Bush, Clinton, Carter and First Ladies promote vaccine in new advertisements (Reuters)
Biden directs states to make all adults eligible for COVID vaccines by May 1 (USA Today)